We are a group of dedicated DC Therapist Connect community volunteers who manage our growing and vibrant group. Some of us alternate months managing our Google and Facebook groups and others have discrete responsibilities or head committees. We meet regularly to ensure that DCTC maintains it's culture of kindness, compassion and growth.
DCTC Team Members:
Jonathon Carrington, LCPC (He/Him)
Contact: jonathon@jonathoncarrington.com
Jonathon is the Founder and Owner of Atone Therapy, a virtual private practice offering trauma-informed culturally-sensitive solutions. He offers individualized solutions to individuals and businesses including advisory services, consultation, and institutional policies and practices. Jonathon is also a licensed clinical professional counselor in the state of Maryland and pre-licensed in Virginia. Learn more about Jonathon's work.
Andrew P. Darby, LCSW-C, LCADAS (He/Him)
Contact: andrew@darby-integrative-counseling.com
Andrew is the Executive Director and Founder of Darby Integrative Counseling. He is a consultant to other organizations and psychotherapy practices throughout the United States. Andrew's MD-based group psychotherapy practice, Darby Integrative Counseling, provides in-person and telehealth mental health, trauma, and substance abuse services. The physical office is located in Silver Spring, MD, and telehealth is provided to states throughout the USA via PSYPACT providers and multi-state licensed therapists and counselors. The therapists at the practice take an integrative approach to healing.  They meet the needs of clients using multiple evidenced-based practices to assist them in awakening to their full healing potential. Learn more about Andrew's practice.
Kira Denney, LCPC (She/Her)
Contact: kira@pearlwellnesspractice.com
Kira is co-founder/co-owner of Pearl Wellness Practice. She is a licensed clinical supervisor and therapist serving individuals with disordered eating, eating disorders and body image concerns in DC, MD and FL. Kira also serves as chair elect for the DC International Association for Eating Disorder Professionals, provides individual and group supervision, consultant for other mental health professionals and practice, facilitates psycho-ed groups. In Kira's spare time, you can find her volunteering as the philanthropy chair for her alumni, mentoring psychology students, watching or playing sports, and hanging out with family. Learn more about Kira's practice.
Tali Elitzur, LCPC, LPC (She/Her)
Contact: tali@mcwtherapy.com
Tali is a therapist licensed in MD, DC, and VA, specializing in: divorce, domestic abuse, sexual violence, life transitions, cultural/racial/sexual/gender identities, anxiety, PTSD, parenting, grief, and developing healthy relationships. Tali believes in treating clients as whole and unique individuals. She works with clients to create collaborative integrative teams for their journeys with psychiatrists, medical providers, holistic resources, social support systems and advocates. Learn more about Tali's practice.
Jaclyn Halpern, PsyD (She/Her)
Contact: drjaclynhalpern@gmail.com
Jaclyn is a licensed psychologist in MD, DC, DE, and VA with APIT under PSYPACT. She is the Director, Co-Founder, and Clinical Supervisor of The SOAR Program for Psychotherapy and Testing at Washington Behavioral Medicine Associates, LLC. Jaclyn supervises clinical staff and oversees general programming to ensure that therapy and testing are strengths-based, neurodiversity affirming, culturally competent, trauma-informed, and anchored in up to date, evidenced-based neuroscientific and psychological research.  Learn more about Jaclyn's practice.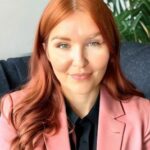 Savanna Martin, LPC (She/Her)
Contact: Savanna@aspenvalleycounselingservices.com
Savannah is the owner of Aspen Valley Counseling Services PLLC. She is licensed in VA, DC, FL, and CO. She specializes in trauma, anxiety, and addiction. Learn more about Savanna's practice.
Laura Morlok, LCPC, LPC, RPT-S (She/Her)
Contact: laura.m@playfultherapy.net
Laura is a Licensed Clinical Professional Counselor and Board-Approved Supervisor in Maryland, a Licensed Professional Counselor in Virginia and DC, as well as a Registered Play Therapy-Supervisor. She is the owner of Playful Therapy Connections, a hybrid group practice specializing in supporting neurodivergent kids (3yo+), teens, young adults and families through child-centered play therapy, digital play therapy, and gaming. Laura is passionate about providing neurodiversity-affirming care that centers the needs of her clients and is guided by the work of the Autistic and ADHD communities. Learn more about Laura's practice.
Orlesa Poole, LCSW (she/her)
Contact: poolepsychotherapy@gmail.com
Orlesa is a Licensed Clinical Social Worker and owner of Managing Motherhood Psychotherapy, LLC. She is passionate about helping mothers find peace and harmony amid the chaos of parenthood. Orlesa also enjoys working with parents of spirited children, who want to better understand and manage their children's explosive behaviors and "big" emotions. Orlesa is licensed in MD, VA and DC. Learn more about Orlesa's practice.
Melanie Ricaurte, Psy.D., M.Ed (She/Her)
Contact: drmelaniericaurte@gmail.com
Melanie is the Clinical Director of Harmony Holistic in Rockville, MD. Melanie is an AASECT Certified Sex Therapist, an AASECT Certified Sex Therapy Supervisor, and a hypnotherapist. She is an advocate, educator, and therapist; focusing her work on issues related to human sexuality, and marriage equality. A focus of her work is helping individuals and couples navigate the challenges faced when different aspects of their identity are in conflict. Melanie welcomes people of all religious faiths, nationalities, sexual orientations, gender identities, erotic orientations, and lifestyles. She offers a warm collaborative approach to her work with clients. Learn more about Melanie's practice.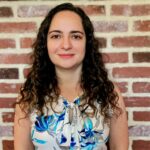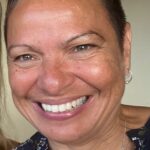 Gloria Saez, LICSW, LCSW, LCSW-C (She/Her)
Contact: lcgsaez@gmail.com
Gloria is licensed in MD, DC, VA, and IL and is a social work board approved supervisor in MD and VA. Her Hispanic heritage and fluency in Spanish affords her the opportunity to serve the hispanic community in Spanish. Diversity and inclusion are important aspects of her practice. Thriving and living our best lives are the goal of service. Gloria is EMDR certified and has trainings in IFS, DNMS, Imago, crisis response, other modalities. She is a member of the VA Crisis Response Network (VCRN) community, which offers free, emergency response EMDR services to mass casualty events in the Commonwealth of VA and is a part of the Victim Crisis Assistant And Response Team (VCART). Learn more about Gloria's practice, Salus Vita, LLC.
Margie Underwood, LCPC (She/Her)
Contact: margie@underwoodcounseling.com
Margie is a Licensed Professional Counselor with a private telehealth practice in MD. She has over 20 years of experience supporting individual adolescents and adults, as well as couples and families. Margie helps clients address issues such as relationship challenges (including separation and divorce), parenting and coparenting, LGBTQIA+ identity and unique challenges, family conflict, depression, anxiety, and major life transitions. Margie is bilingual and offers all services in both English and Spanish. She takes a strength-based approach and uses humor in her work, believing that laughter is a critical factor in healing. Margie strives to create a safe space where her clients feel respected, supported, and fundamentally understood. She sees herself as a guide, helping clients gain insight into the roots of their challenges, and empowering them to take conscious steps toward decreased stress, and increased joy and peace. Learn more about Margie's practice.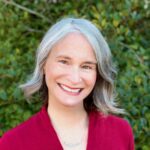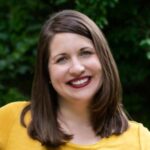 Emily Wietmarschen, LPC, LCPC (She/Her)
Contact: eajwtherapy@gmail.com
Emily is the Clinical Director of Rock Creek Therapy, a women-owned group psychotherapy practice in Washington, DC.  Emily is a trauma therapist who believes in the power of connection – with a passion for collaborating with clients to create better lives for themselves.  She uses EMDR, DBT, & expressive arts interventions in support of this goal.  Her therapeutic style is collaborative, direct, humorous, and authentic.  She is a lifelong learner and collaborator licensed in MD, DC, VA, & practices telehealth in FL.  She is also a board approved supervisor in MD & VA. Learn more about Emily's practice.